WHAT IS A MEMORY COMPOSITE?​

A Memory Composite, also known as a Memory Mate, is a horizontal 8x10 photo print that includes an image of your athlete and team on the same 8x10 photo. The location of the athlete image is usually in the top right or left corner and the location of the team image is usually towards the middle and is slightly larger than your athlete's image. Memory Composites are personalized with your athlete's name, team/league name, and more.

Because of the personalization and design elements used to create a memory composite, the Memory Composites are. . .

AVAILABLE IN THE 8x10 PRINT SIZE ONLY

NOT AVAILABLE IN SPORTS PACKAGES "F / G1 / G2"



NOT AVAILABLE FOR DIGITAL DOWNLOAD

​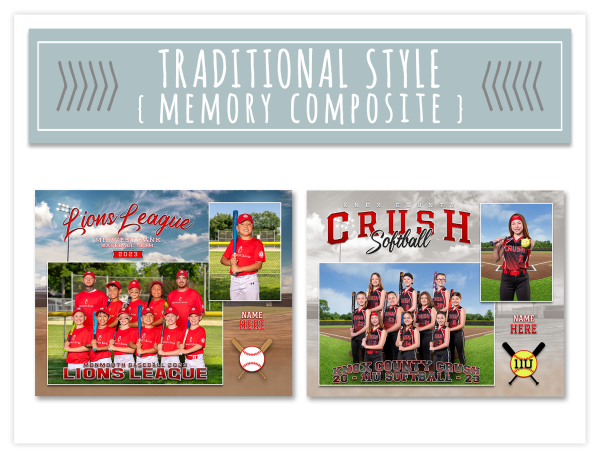 TRADITIONAL STYLE MEMORY COMPOSITE EXAMPLE
Includes the TRADITIONAL STYLE Athlete and Team photo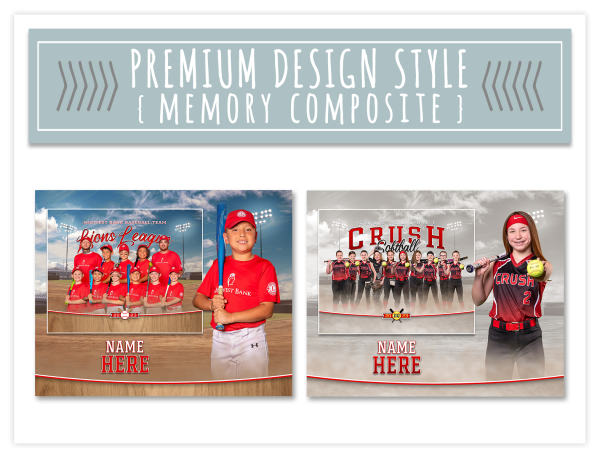 PREMIUM DESIGN STYLE MEMORY COMPOSITE EXAMPLE
Includes the PREMIUM DESIGN STYLE Athlete cut-out and Team photo