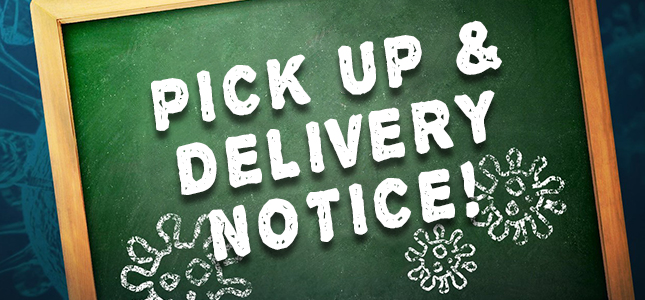 As we're sure you are aware, earlier today, Illinois Gov. JB Pritzker announced that remote learning in Illinois will be extended through the end of the 2019-20 school year. This is not the news that any of us wanted to hear, especially for our senior student-athletes, but because of this unprecedented public health crisis, these actions are understandably needed for our safety.

Since learning that our area students will not be returning to their school buildings, our studio can now put into action our plan for you to obtain your spring sports photo orders that we have not been able to deliver since the statewide Stay-At-Home order was implemented last month. We want to make this process as simple as possible, and in doing so, we have a couple of options for you to choose from in order to receive your sports photo orders from our studio.


WANT TO PICK UP YOUR ORDER?
WHEN: Next Tuesday the 21st and Wednesday the 22nd from 4-6:00pm.
WHERE: At our home studio DropBox Location, which can be found HERE. We are located at 200 North 2nd St., behind the Security Savings Bank here in Monmouth, IL, but please pull up to our driveway along East Archer Avenue, where our DropBox is located.
WHEN YOU ARRIVE: We will be eagerly waiting so we can bring your order to you once you arrive. Please remember that your safety is important to us, so please practice social distancing during this pick-up time.
CAN'T MAKE IT DURING THE SCHEDULED TIMES BUT STILL WANT TO PICK UP YOUR ORDER? No problem! Simply contact our studio and we'll be happy to make other arrangements with you when it's more convenient.
WANT US TO DELIVER YOUR ORDER?
If you are not able to pick up your order on Tuesday or Wednesday, then we'll be happy to deliver it to you.
WHEN: Next Thursday the 23rd and Friday the 24th.
DO WE HAVE YOUR ADDRESS? Yes, all deliveries will be made to the address you included on your paper order form or the address you used when creating your account on our website.
DO YOU NEED TO UPDATE YOUR ADDRESS? Please contact us by Wednesday, the 22nd, so we can update your address before we attempt to deliver your order.
MAILBOX OR FRONT PORCH? To protect your sports photo investment, all orders will be hand-delivered in sturdy white mailers to either your mailbox or to your front porch if your mailbox is too small.
HOW WILL YOU KNOW WHEN YOUR ORDER HAS BEEN DELIVERED? We will send you a Delivery Confirmation Email once your photo order has been delivered to your address.

THANK YOU for your patience and understanding in dealing with this unprecedented situation. We always strive to give all our sports athletes and their families the best experience possible and we cannot thank you enough for supporting our small local business during these tough times. As we continue to work together through these next months, we are looking forward to seeing and photographing your student-athletes when in-person learning resumes at our area schools. Until then, be safe and have a wonderful summer break!