---
I'm personally honored every time a client chooses to print and/or share their new digital images from their recent photography session. Before you print or share your beautiful new digital images, however, I want to ensure that all the images from your session represent you at your finest. Please read through some helpful instructions on how to successfully print and share your new digital images.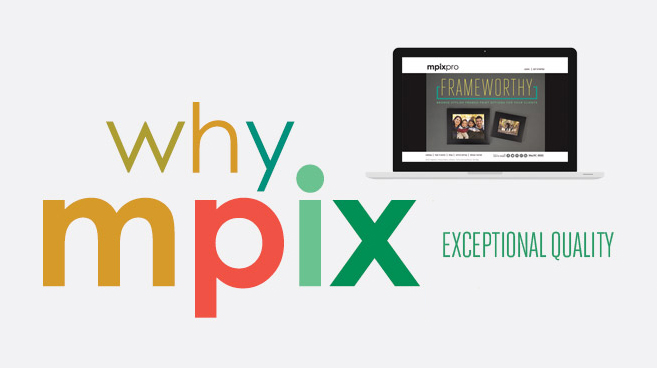 OUR PRINTING LAB RECOMMENDATION
START PRINTING TODAY: My best recommendation for printing your new digital images is through mpix.com. Mpix uses high-quality papers for all of their prints and products so your new digital images will look their best once printed. Another reason why I recommend Mpix is because my studio's image processing equipment is closely color calibrated to their settings.
PRINTING AT OTHER LABS: If you're planning on displaying your digital images on your walls I strongly encourage you to print from a high-quality pro lab like Mpix. I completely understand that sometimes you just need to quicky print some 4x6's at the local Walgreens or Wal-Mart, but please remember that the printers at these labs are not calibrated on a regular basis and tend to print poorly with the colors not rendering properly.
**No matter where you choose to print your digital images, we are not responsible for prints or products unless they are ordered directly through our studio.**

PRINT RELEASE FORM: Once you've completed your digital image purchase you will receive a link to our studio's online print release form. Some print labs will require a print release form before printing professional photos, so make sure to print out your form and bring it with you so your print order is not delayed.
**Please note that my print release form is for printing only, no editing of any kind is permissible, as it affects the reputation of my business.**
SPORTS GALLERY PRINT SIZE: All traditional and graphic design sports images are sized and designed to an 8x10 orientation. Our studio in not responsible for any part of an athlete or graphic design elements and/or text being cropped out of the image if you choose to print these photos in a smaller size, such as 5x7 or 4x6. Our studio is not able to make any adjustments to the image and/or graphic design to accommodate these smaller sizes.
HOW TO SHARE YOUR DIGITAL IMAGES ON SOCIAL MEDIA

If you've requested to share digital images from your gallery, or you have purchased digital images from my studio, I ask that you keep these tips in mind when sharing your new digital images on your social media sites.

WHAT ARE SOCIAL IMAGES? Whether you've requested to share digital images from your new online gallery or you've purchased digital images from my studio, please credit my studio when you share images on your personal social media sites. HOW TO CREDIT MY STUDIO? Simply include @loriasealsphotograph on Facebook, @loriasealsphoto on Twitter, and #loriasealsphoto on Instagram when you post your images.
Please don't crop out or remove my studio watermark logo.
Please don't alter or manipulate your digital images in any form without expressed written consent from Lori A. Seals Photography, LLC.
Please keep in mind that copying your images via cutting and pasting, taking screengrabs from my website, or snapping pictures of your physical images with your cell phone, etc. DOES CONSTITUTE COPYRIGHT INFRINGEMENT.