---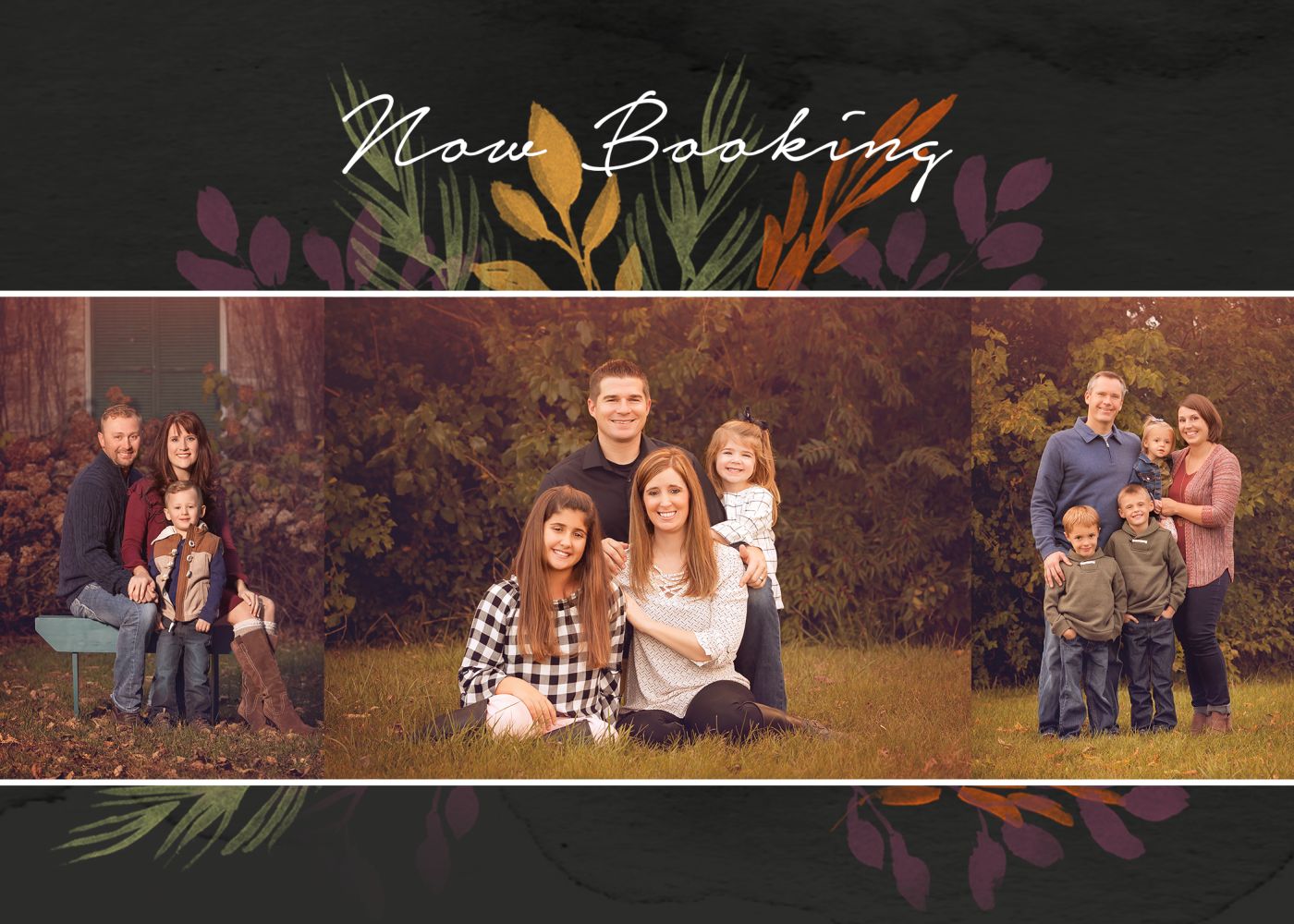 FALL FAMILY SPECIAL
This Special Is Closed For 2018
THANK YOU to everyone who has conatacted our studio and scheduled your new Fall Family Special session with us! We are completely booked for this special and will not be able to take any new family sessions through the remainder of the year. Again, thank you and have a wonderful fall and winter!
If you are not completely familiar with the Fall Family Special, please allow me to provide you with a few details. I have offered this special since 2012 and it has been a huge success not only for my studio but also for the families that have taken advantage of it. I reserve this special for FAMILIES ONLY as my way to encourage families to update their family portraits on an annual basis.
HOW DOES THE FALL FAMILY SPECIAL WORK?
If you schedule your family's session to be photographed between September 29th and November 4th (depending on November temperatures) and purchase any of my portrait collections, your sitting fee (up to 6 people and valued at $150.00) is WAIVED. If you are interested in Digital Images please contact our studio for more information about this option.
WHAT IF MY FAMILY INCLUDES MORE THAN 6 PEOPLE?
I have years of knowledge and experience in photographing large families and understand how important it is to capture as many family members together when you can. When scheduling your Fall Family Session, I will be happy to discuss the various options that are available when photographing your family as well as my affordable large family fee options.
WHAT'S INCLUDED IN THE PORTRAIT COLLECTIONS?
My portrait collections are tailored for any session style with an added savings. Best of all, you can choose MULTIPLE poses for your portrait collection (gone are the days of one pose per package...YAY!) To view my current portrait collections please follow the link HERE. If you are interested in Digital Images please contact our studio for more information about this option.
"The best preparation for good work tomorrow is to do good work today." --Elbert Hubbard.
I strive to make every experience my clients have with my studio a special one and that starts with scheduling your consultation before your session. A consultation warrants no obligation and will only take about 20-30 minutes. This will be an opportunity for us to meet in person before your session, make sure all your questions are answered, and give us a chance to discuss all of your ideas so I can plan for your session accordingly. My schedule is very flexible, so we can schedule this consultation during business hours, in the late afternoon/evening, or during the weekend if necessary.
If you don't think you'll have the time to schedule an in-person consultation, then I'm happy to email you a consultation form to fill out at your earliest convenience and return to me. I will then follow up with a courtesy call to officially book your fall family portrait session and answer any questions that you still may have.
Want a little sneak peek into what a session will be like? Then visit my What To Expect page HERE for more information.
Curious about what my clients are saying about their experience at my studio? Check out the Say What?! testimonial page HERE to find out.



---
** Exclusively for Families Only ** Cannot Be Combined With Any Other Offer ** Not Redeemable for Cash, No Carryover or Cash Back ** Additional Charge for Families With 6+ Members **
Please contact my studio to schedule your consultation and Fall Family Special . . . Thank You!